We designed our Expedition RZR Cargo Rack to take all the abuse that the Polaris RZR 1000 can dish out. The RBO Expedition Rack™ is made from 1.5" Diameter Steel Tubing. It has a rugged powder coated finish and is manufactured by us right here in IDAHO. The Tailgate can be locked with a Pad-Lock so you can keep your possessions locked and secured from thieves. The Tailgate on our Expedition Rack has a gas strut to hold the tailgate open and out of the way. The Expedition Rack also features our "It Fits" ™ RBO Mounting system. With the "It Fits" ™ mounting system you can quickly and easily install any RBO accessory with the "It Fits" ™ icon. Carrying a fuel can, water jug or spare tire has never been easier or cooler looking then by using the "It Fits" ™ RBO Mounting system on your Expedition Rack.
The RBO Expedition Cargo Rack comes with everything you need to install it on your machine without drilling or modifying your machine. It is designed to work with your Polaris ® RZR100 Polaris RZR XP1000® or the Razor XP Turbo. When it comes to satisfaction, we believe in backing up our products. That's why we offer a 30 Day money back guarantee*. Experience today why so many people are installing a RBO Cargo Rack on their Side x Side UTV.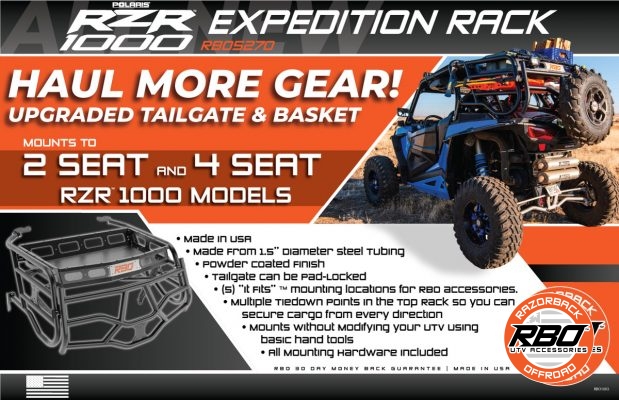 With 0% financing and monthly payments through Affirm, it's easier than ever to complete the build of your machine! Be sure to check out the "It Fits"™ Adjustable Spare Tire Mount, as well as the "It Fits"™ RotoPax Mount, and the UTV Chainsaw Mounts to maximize your machine!