An All-purpose Polaris GENERAL Cargo Rack
We designed this Polaris GENERAL Cargo Rack to meet almost any need. From maintenance around the farm to recreational camping, this rack gets the job done. This general cargo rack allows full functionality of your factory dump bed and is easy to install. This rack includes RBO "It Fits"™ mounting plates so you can easily bolt on other "It Fits"™ RBO accessories to maximize the space on your machine.
A UTV Upgrade Designed by Off-roading Experts
We're a team of people who use these machines ourselves, so we understand the importance of tying down gear. We included numerous tie down locations throughout the bottom and sides of the upper tray. We also included more tie down locations along the bed railing for so you can secure your cargo in the bed of the machine.
We make our cargo racks from 1.5" diameter steel tubing and give them a powder-coated black finish to create the rugged, badass appearance RBO is known for.
Simple Mounting System for Easy and Non-destructive Installation
We partnered with GripPRO ATV Anchors to bring you a rack that is easy to install or remove in minutes. Now it's quick and painless to customize your UTV to suit your needs for the day. Only basic hand tools are necessary for a fast, easy install without making any modifications to your Polaris General™. This rack also comes with RBO "It Fits"™ mounting plates so you can easily bolt on other "It Fits"™ RBO accessories. Be sure to check out the Polaris General 1000 Expedition Rack with a tailgate, Polaris General Spare Tire Mount,  "It Fits"™ RotoPax Mount, as well as the RBO UTV Chainsaw Mounts to maximize your machine!
We make the RBO Polaris General GP™ Gen 2 Rack with pride here in Idaho, USA. When it comes to satisfaction, we believe in backing up our products and offer a 30 day money back guarantee*. Experience today why so many people are installing a RBO cargo rack on their side x side UTV.
This rack is also available with a tailgate. Head over to the Polaris General Expedition Rack™ page to learn more about this lockable, space-creating feature.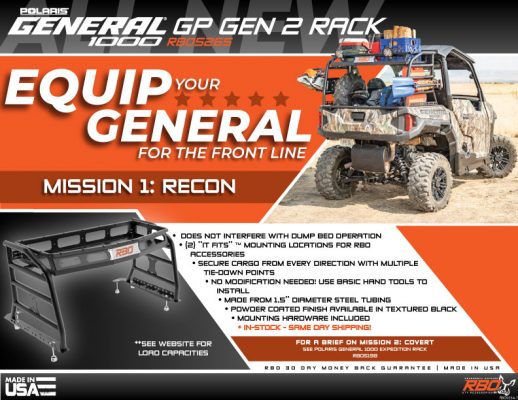 With 0% financing and monthly payments through Affirm, it's easier than ever to complete the build of your machine!