The UTV Chain Saw Mount by Razorback Offroad™ is the best-built chainsaw mount available on planet earth. We designed this Chainsaw Mount to be as dependable as the people who use it and as tough as the saws that it will hold. Nothing was left to chance. We design our UTV Chainsaw Mount with a Powder Coated Aluminum Exoskeleton frame that surrounds our Ultra High-Density Plastic Saw Holster. This is the same stuff that we make cutting boards out of. We used this high-grade plastic so we could protect that precious saw blade and so it would hold up for generations to come. We also designed in a platform that the saw can rest on, so it gets a stable ride while on the trail. We also gave the Platform clearance so your Bumper Spikes/Felling Dogs don't get dulled on the ride to the tree. Securing your saw is as easy as tightening the 2 lock screws. We also made the UTV Chain Saw Mount so it can be Padlocked to keep your saw safe and sound using our Theft Deterrent Cover Plate.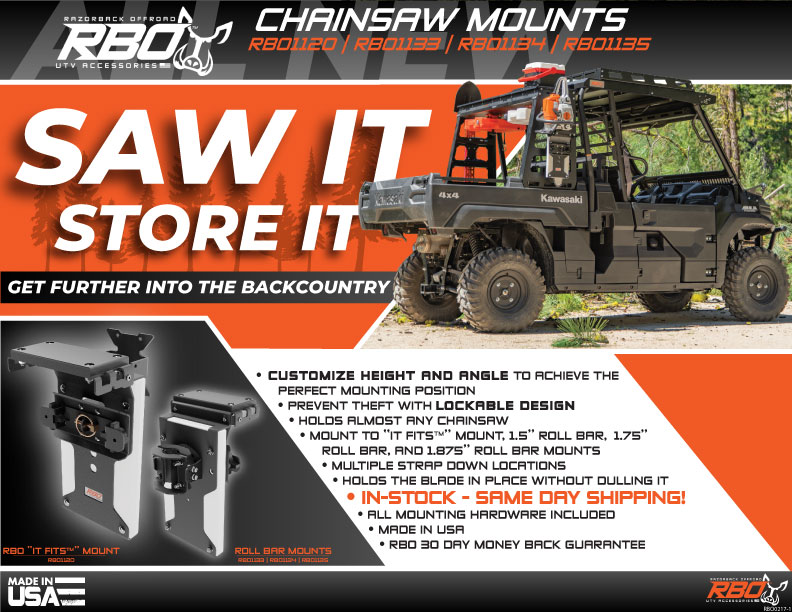 "But Wait, there's more," our Side x Side Chainsaw Mount is fully adjustable in and out and can be used in multiple angles. We tried to give you lots of freedom to mount the Universal Chains Saw mount where ever you want. Our "It Fits™" Mount and bolt directly to any of our Cargo Racks! This Is the Perfect ATV Chain Saw Mount, UTV Chain Saw Mount, Jeep Chain Saw Mount or Side x Side Chain Saw Mount. Best of all, it's made here in the USA and comes with our RBO 30 Day Money Back Guarantee.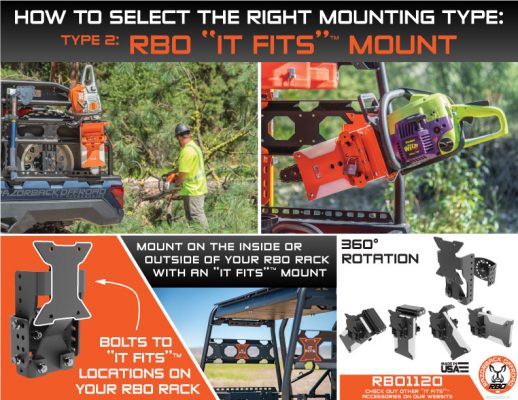 Click a Graphic to Expand.