Through a lot of discussion and thought process RBO really wanted to offer a Fixed windshield for the RZR Trail machines that would fit great with stock Polaris roofs. We understand the complications sometimes when trying to figure out if products will fit your machine, however this windshield can be bought and installed onto your machine with confidence that it will fit with your stock setup. We kept it simple, down, and dirty to offer you the best option for those who just want a fixed windshield on their machine. See dimensions for details.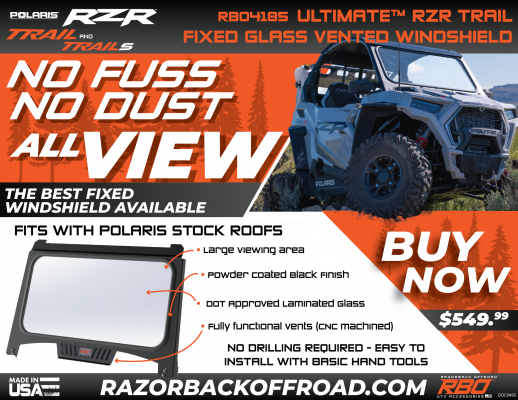 Simple Design Features: Our Glass Front Windshield is very easy to install and only takes about 20 minutes with some basic hand tools. There is no drilling or modifications required to install this fixed windshield onto your rig. The design features a vent that can be opened to allow a little more air flow through the cab of the machine. The Glass is Laminated DOT approved and one of the largest viewing areas that fits with the stock Polaris roofs.
Lightweight and Durability: We built our RZR Fixed Glass Windshield frame from 1/8" thick 6061 Aluminum. This design is super lightweight and gives the strength to last for years of off-road abuse.
Pride in Craftsmanship: We take great pride in the fact that we build this windshield here in Idaho.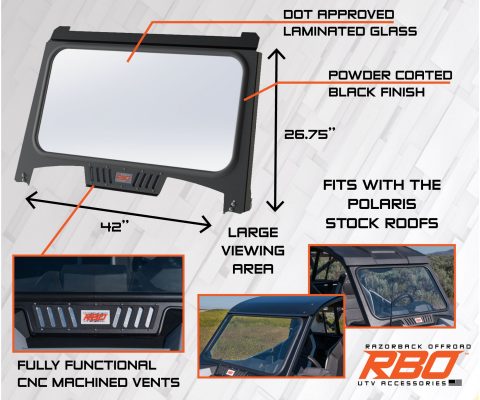 We answer the phone when you call. We will be here when you need us. Being in such a small town we have really learned what it means to be thankful for work. Every time you purchase from RBO you are keeping people working and we thank you for that.
Made in USA and comes with our RBO 30Day Money Back Guarantee **