The RBO Kawasaki Mule Pro XT Utility Cargo Rack is designed to work with the Kawasaki Mule Pro FXT Gas and the Kawasaki Mule Pro DXT Diesel with the 3 to 6 Passenger Trans Cab™ System. The RBO Mule Pro XT Utility Cargo Rack by Razorback Off-road has unlimited uses. For those of you who want a Kawasaki Mule Duck hunting rack or Kawasaki Mule Deer hunting rack we got you covered. The Upper Cargo Tray is large enough to carry your decoys, coolers, etc. and gives you room in the bed for your dogs.  When it comes to the versatility for your Kawasaki Pro FXT or Kawasaki Pro DXT around the Farm, it doesn't get any better than our Kawasaki Mule Pro XT rear bed Storage rack. We have given you 72 total Tie Down slots where you can secure a Bungee or piece of rope to tie your cargo down to our Kawasaki Mule Pro FXT EPS Utility Cargo Rack. We also know how important it is to have your shovel and other tools with you no matter where you are.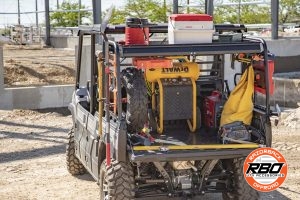 That's why we have made 16 different mounting options for our "It Fits" ™ Accessories mounts. Never before has a Kawasaki PRO XT Cargo rack offered so many options for mounting and securing, fuel cans, coolers, RotoPaX, FuelPaX, shovels, hammers, ropes, chainsaws, wood, rafts, etc. the list just goes on and on.  Just imagine how organized you can be on the trail, job site, or farm with so many options for mounting your UTV accessories. We also offer an optional spare tire mount that has 2 different mounting options inside of the bed and holds most sizes of tires. When it comes to securing items in the bed of your Kawasaki Mule we made it simple by building 16 tie-down points into the Kawasaki Mule Pro FXT. These rails are an integrated part of the Kawasaki Mule Pro DXT rack so they have the strength to keep cargo in its place. This is one tough Kawasaki Mule Storage rack. We built the sides from 1.5" steel tubing and then powder coated them in our Tuff Coat Black Finish. The upper Cargo Tray is made from 1/8" thick military-grade aluminum and has 48 tie-down slots so you can tie down about anything. Installation takes about 20 minutes and can be done with no drilling. This Cargo Rack will still allow you to Dump the Bed and will allow you to Convert the seat with the Kawasaki Trans Cab System.
Designed to fit a wide range of Kawasaki Mules, this rack is a perfect, Kawasaki Mule-Pro FXT Cargo Rack, Kawasaki Mule-Pro FXT Crew Utility Rack, Kawasaki Mule-Pro FXT Duck Hunting Rack, and Kawasaki Mule-Pro DXT Diesel Bed Storage Rack.
With our 30-Day Money-Back Guarantee and the fact we make this rack right here on US Soil should give you confidence in owning the best-built Cargo rack available for your Kawasaki Mule Pro FXT or DXT Side By Side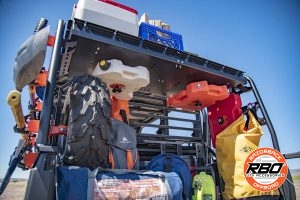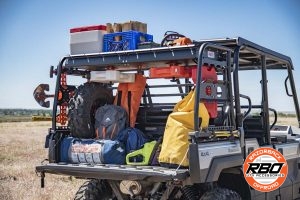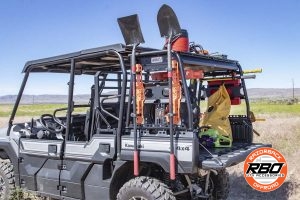 With 0% financing and monthly payments through Affirm, it's easier than ever to complete the build of your machine! Be sure to check out the RBO Mule Spare Tire Mount, It Fits™ Universal Tool Mount, as well as the It Fits™ RotoPax Mount, and maximize your machine!