The RBO4161 Baja Package – Is a custom designed package that will transform your RZR Trail or RZR Trail S into a race inspired Side x Side that has the look of a true offroad desert racing machine. We designed this package to include our Desert Roof and our Folding windshield all in one easy to install package. If you want to transform your boring looking cookie cutter RZR Trail Side x Side into a true off-road beast, then this is the package for you.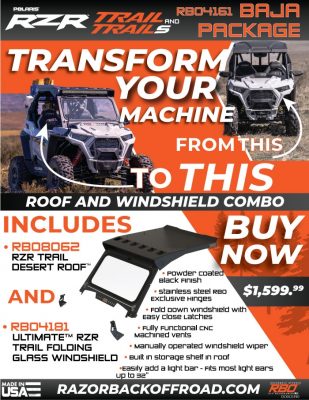 This Baja Kit Includes
RBO4181 Ultimate™ RZR Trail Folding Glass Windshield
Our RZR Trail Folding Windshield performs like no other. Made from Military grade aluminum and powder coated in our Tuff Coat finish ensures that your folding glass windshield will look good mile after mile. No more scratches or static clinging dust like you get with a poly window, we use a true D.O.T approved glass with an automotive style gasket and built-in wiper. If you're on the trail and it gets hot, just fold down the windshield, and let the air in. When you hit the road for that long run home, just fold it up for added warmth and protection. If you want something in between just open the sliding vent.
RBO8062 RZR Trail Desert Roof™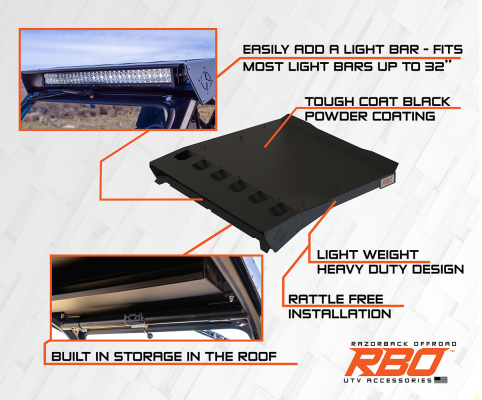 When it comes to our RZR® Trail Desert Roof there is more than meets the eye. The design is inspired by Baja Race Vehicles past and present. The shape truly transforms your RZR Trail machines looks. Designed to completely transform the Volkswagen® look of the 2021 and newer Polaris RZR Trail and Razr Trail-S Side x Sides and give them a real Desert Racer look.  But as we all know looks aren't everything, that's why we designed this roof to be extremely strong and durable. Made from Military Grade 1/8" Thick Aluminum and reinforced in all the right places with internal strengthen ribs along the sides. This not only strengthens the roof it also helps to reduce those annoying noises known as the "oil canning effect". There is nothing like being a day out on the trail with squeaks and rattles that end up ruining the experience. We also designed in a full width overhead shelf to give that little extra space to store things. Powdered coated in our exclusive Tuff Coat Black finish ensure this roof will look good for years. With our built in Visor and duct system you get a great place for a light bar up to 3.5" in height and improved airflow over the machine. In conclusion, this combination will make your machine look hardcore and bad to bone.
The Baja Package is made here in the USA and comes with our RBO 30-day money back guarantee