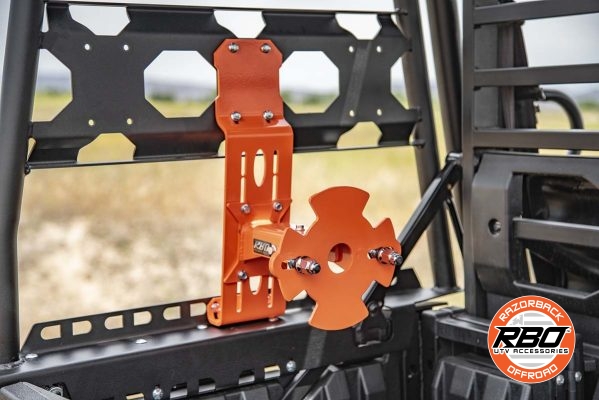 A Customizable Tire Mount for Your Bobcat
Featuring RBO's  "It Fits"™ adjustable tire mount, this Spare Tire Mount for the UV34 or UV34XL for your Bobcat  fit all widths of tires and was designed to fit exclusively on our Utility Cargo Rack for your Bobcat (RBO5145-B).
Adjustable Fit for Multiple Tire Sizes
The RBO Utility Vehicle Spare Tire Mount for your Bobcat is also adjustable up and down so it will also fit tires 28″ and shorter. It'll accommodate all popular sizes of spare, and it allows the tire to rest on the bed of your machine, making it easy to remove your spare. So you can carry any size tire out there with you, and count on it being easy to use right when you need it most!
Easy to Install on Your UTV
We include all the hardware needed to quickly install this mount without modifying your utility rack.  The RBO Polaris Ranger Spare Tire Mount is made from fabricated steel, comes with both 10mm and 12mm wheel lugs and all necessary hardware to bolt directly to the RBO UV34 UTV Utility Cargo Rack for your Bobcat . (No drilling or modification required).
Fits the Bobcat UV34XL and 2013-2019 Bobcat 3400, Bobcat 3400XL, Bobcat 3600 UTV, and Bobcat 3650 UTV.
We're so confident that you will love this product that we give it our 30-day money-back guarantee*
*Mount comes in black powder coated finish ONLY. Shown in orange for clarification purposes only.