The RBO Kawasaki Mule Folding Front Glass Windshield provides another level of utility and comfort to your ride, whether that be for work or play.  The windshield, when up, provides protection from debris and some comfort from the elements while allowing fresh air flow through the adjustable vents.  When latched down the windshield provides a completely open flow cab, a nice shooting rest, or a convenient table top to draw up your day plans or have lunch on.  To increase practical use of the windshield we have included a full width tray on the cab side above the windshield.  This tray presents a perfect place to keep tools, gloves, ammo, and anything you need within easy grasp.  Whether it be for business or pleasure the Mule Folding Front Windshield provides the additional versatility and comfort you need to work or play to your fullest potential.
With our industry leading adjustable air vents. You get full control of how much air you want to let into the cab. "Remember it's all about enjoying the ride".  We build this Mule Windshield from Aircraft grade Aluminum and use a DOT approved Laminated Glass windshield, providing clear scratch free vision. We also include a real deal manual windshield wiper that not only works great, but it does not take up any of your viewing area.  This Mule Folding Front Windshield is designed to work with Mule DXT and FXT Models.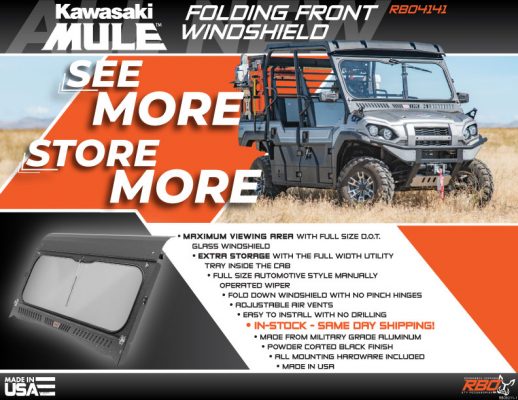 With 0% financing and monthly payments through Affirm, it's easier than ever to complete the build of your machine! Be sure to check out the Kawasaki Mule XT Roof, as well as the Kawasaki Mule Utility Cargo Rack, the Kawasaki Mule Spare Tire Mount, and the It Fits™ RotoPax Mount to maximize your machine!